Knitting Instruction
Hat and coat knitted by Thea. Click for closeups.
Although her students claim she "came out of the womb knitting," Thea Gray began knitting in third grade—and hasn't stopped since, even going so far as to fly 3000 miles for Catherine Lowe's three-day course in couture knitting techniques. Patient but firm, she equips her students with techniques that will carry them through the difficulties faced by every new knitter.
---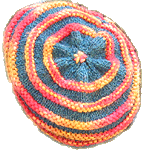 Thea Gray is a wonderful teacher. Since I've learned knitting from her, I've become absolutely addicted—to yarn, to knitting and making hats. It's my new full-time hobby!
- Shelley, nursing student, former massage therapist
Thea's clear and patient teaching style allowed me to keep the yarn on the needles for my first time ever. I've tried several times to learn to knit and have always given up in discouragement. I not only kept the yarn on, I made darn good rows. She gently showed me the tricks and how to fix the misses. I gained enough confidence during a short session with Thea to relax and enjoy the feel of the yarn and the rhythm of the stitches.
- Beverly, editorial consultant and writer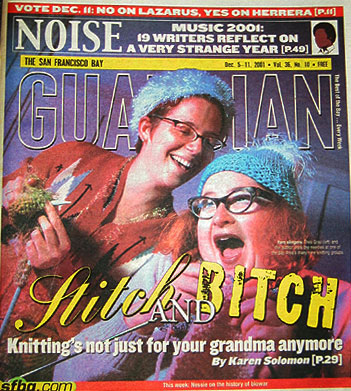 Thea with author Karen Solomon
As a legally blind person with a streak of impatience, I never thought I'd be able to knit or do any other sort of handicraft. But Thea's gentle suggestion that I give it a shot was truly a life-changing moment. Thea has the patience of a saint, was energetically motivated to teach our little group on a volunteer basis, and she has the immense talent for the craft that one can only be born with. In addition, she is always willing, eager, and thorough in her teaching, and she won't be satisfied until her student can stand on her own two feet. Absolutely without reservation I strongly recommend Thea Gray for any sort of teaching position in knitting or crafts.
- Karen, freelance writer
Thea is a natural at teaching. She creates a warm, welcoming environment, in which I feel very comfortable asking for clarification or repetition. She's a great listener, and creatively adjusts her teaching style to the needs of her students, depending on their level of experience. For example, I came in with some knitting experience, but many years back. She quickly helped me recover the skills I had forgotten. She also successfully taught my friend—a raw beginner who came in somewhat frustrated with knitting. With Thea's help, my friend gained a lot of confidence, and is now able to complete projects on her own.

- Jenny, user interface designer
Not only is Thea a patient and thorough teacher, she's enthusiastic and skilled in many different knitting techniques. She's helped me go beyond merely following patterns.
- Rachella, freelance writer and editor
Thea is so precise and professional in her own knitting—it's a level of talent I've never seen before. She guides her students to the appropriate projects for their level of expertise and helps them adjust their patterns to the materials at hand.
- Tam, owner of SeniorWomen.com (and Mom)
---
RATES
| | | | |
| --- | --- | --- | --- |
| No. of Students | 1 hour | 1.5 hours | 2 hours |
| 1 | $50 | $70 | $85 |
| 2 | $75 | $95 | $130 |
Please contact Thea for information regarding her writing and editing rates.